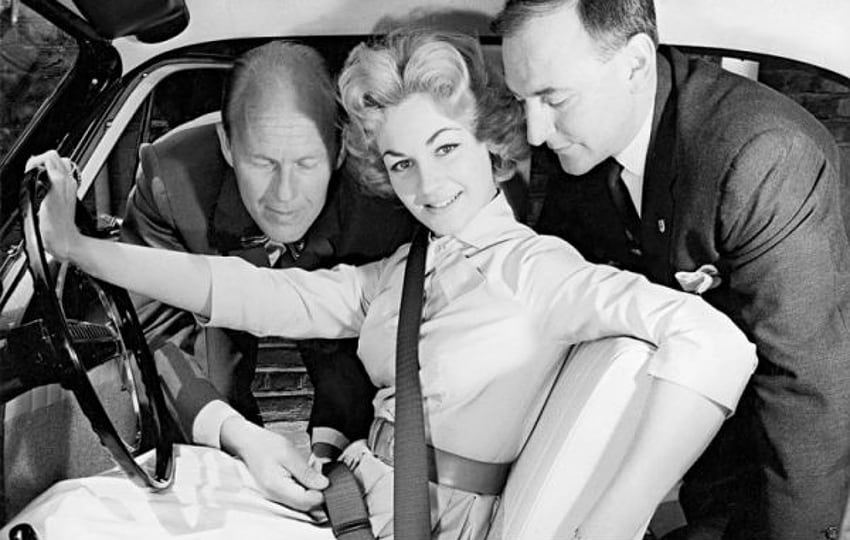 Few people have saved as many lives as Nils Bohlin - the Volvo engineer who in 1959 invented the V-type three-point safety belt. The design was as obvious as it was intelligent, and perfectly suited to the seat occupant's body. To this very day, the safety belt provides the most effective protection in the event of an accident.

Since the 1960s, Bohlin's belt has saved hundreds of thousands of lives, and prevented or reduced the severity of injuries among many millions. This makes the three-point safety belt the single most important safety device in the car's 130-year history. And that's not just Volvo's claim. As confirmation of its effectiveness, Bohlin's invention has been identified by German patent registrars as one of the eight patents to have the greatest significance for humanity during the hundred years from 1885 to 1985. Bohlin shares this honour with patent-holders such as Benz, Edison and Diesel.

From catapult seats to Volvo cars

Nils Bohlin was born in Härnösand, Sweden, in 1920. He started his career in 1942 at Svenska Aeroplan Aktiebolaget (SAAB) as an aircraft engineer. In 1955 he was made responsible for the development of catapult seats as well as other safety equipment for pilots. Paradoxically, Bohlin was also interested in the exact opposite phenomenon - keeping the body as safe as possible during extreme retardation. He soon got the opportunity to develop his ideas, when in 1958, Nils Bohlin was recruited to Volvo as a safety engineer by then president, Gunnar Engellau.

Two-point belt not safe enough

During the latter half of the 1950s, Volvo developed a number of related solutions, all intended to prevent the occupant's impact with the car's interior components or to lessen the severity of the consequences of such impacts in a collision: the collapsible steering column, padded dashboard and attachment points for diagonal two-point belts in the front seats.

Volvo had already been equipping its cars with standard-fit anchorages for two-point front safety belts back in 1957, but the so-called "diagonal belt" did not have the required potential for developing into the safe solution for which Volvo was aiming. The reason was that the belt buckle was positioned at the height of the occupant's ribcage. This positioning meant that the buckle damaged the body's soft organs instead of protecting them. Volvo president Engellau also had family experience of traffic fatalities. A relative had died in a road accident owing among other things to shortcomings in the two-point belt. He therefore gave Bohlin the initiative to develop a better alternative.

Bohlin's solution: simple perfection
Bohlin soon realised that both the upper and lower body had to be properly secured in place, with one belt across the chest and another across the hips. His biggest challenge was to create a solution that was both simple to use and effective since the belt had to be able to be put on using just one hand.
In 1958, his work resulted in a patent application for Nils Bohlin's three-point belt. What Bohlin integrated into his design, and which he regarded as most important for a car safety belt, were four golden rules: the belt consisted of both a hip, or lap belt, and also a diagonal belt across the upper body, which was positioned correctly from the physiological viewpoint. That is to say across the pelvis and the ribcage, and attached at a low anchorage point beside the seat. The belt geometry formed a "V" with the peak pointing down towards the floor. In addition, the belt stayed in position and did not move when it was under load.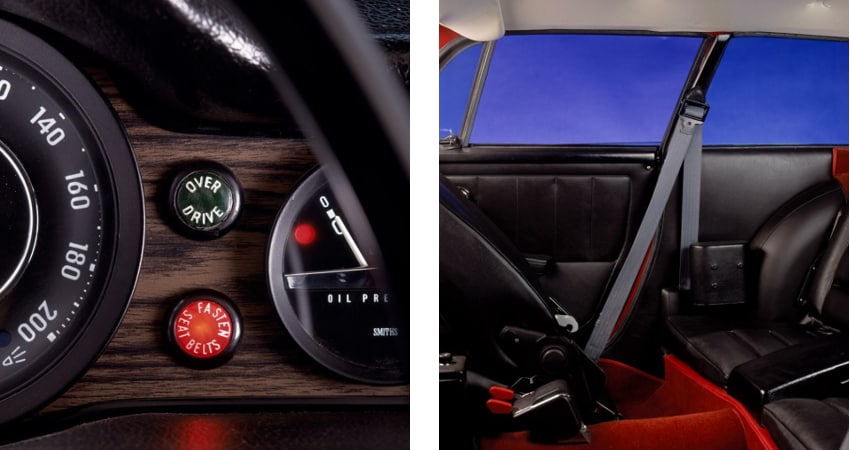 This is the crucial difference between the effective V-shaped belt according to Bohlin's design and the previous three-point, Y-type design, of Griswold. Bohlin's belt was an effective demonstration of geometrical perfection rather than a cutting-edge innovation. The solution and the benefits of the three-point design soon spread throughout the world since Volvo immediately made Bohlin's patent available to all car makers.
Volvo first with 3-point belt as standard

In 1959, the patented three-point safety belt was introduced in the Volvo Amazon (120) and PV 544 for the Nordic markets. Volvo thus became the first car maker in the world to equip its cars with safety belts as standard.
Owing to the two-point belt's relatively poor protective ability and the fact that it was perceived as awkward, customers initially resisted Volvo's three-point safety belt. Although it was easy to use and both comfortable and effective from the protection viewpoint, it was met with a certain degree of scepticism.

Ahead of the launch of the three-point belt in Volvo's cars on the worldwide markets, a series of sled tests and trial impacts were first carried out on all the safety belt models available at the time. The results were crystal-clear: Volvo's three-point belt provided by far the best level of protection for the car's occupants. Backed by these results, in 1963, Volvo introduced the three-point safety belt in the USA and other markets where it was not yet fitted. This meant that all Volvo cars leaving the factory were now fitted as standard with the three-point safety belt in the front seats.

The belt is equally important in the rear seat

Volvo soon realised the importance of ensuring that all the car's occupants were held securely in their seats, and work on equipping even the rear seat with belts was conducted in parallel with other safety-related developments. Volvo's cars were fitted with attachment points for rear seat belts as early as 1958, but it was not until 1967 that Volvo succeeded in convincing the car-buying public that the rear seat's occupants should also use the belts.

People previously held the peculiar belief that just sitting in the rear seat provided protection in a collision - after all, it was in the front that the occupants were in danger. The fact that the occupants of the rear seat are hurled forward with a force of 6,000 - 11,000 lbs. and thus risk seriously injuring both themselves and the occupants of the front seats was suppressed, or perhaps there was simply no awareness of this danger. Today the wearing of seat belts in the rear is required by law and is quite simply a matter of course in many countries.

Safety expert throughout his lifetime

During his time at Volvo, Bohlin came to lead the company's safety drive towards ever-safer occupant protection in Volvo cars. He was quick to realise the need for side-impact protection, so in the 1970s he started working on various technical solutions that eventually resulted in what is now the well-known and patented SIPS - Side Impact Protection System - which Volvo was among the world's first car makers to introduce.

After retiring in 1985, Nils Bohlin was consulted by Volvo on a number of occasions regarding particularly complicated safety issues. In 2002, Nils Bohlin succumbed at the age of 82 to the after-effects of a stroke.



One of the car industry's most important inventors

Nils Bohlin has received many international honours for his work and his development of the three-point safety belt. Many people took the initiative to personally get in touch with Nils Bohlin to thank him when they realized their lives had been saved by his invention. Here is a summary of the awards that the three-point safety belt and Nils Bohlin received over the years:

1956 Grant for continued studies in aviation medicine in the USA, The Swedish Union of Clerical and Technical Employees in Industry

1965 Award for the best sales-enhancing attribute in 1964 (the Volvo seat), Volvo Dealership Association

1975 Ralph H. Isbrandt award/medal for best technical report, SAE Society of Automotive Engineers Inc, USA

1977 Diploma recognising Bohlin's pioneering work in car safety at Volvo, International Association of Accident and Traffic Medicine (6th Int. Conference)

1979 Safety award for particularly excellent engineering work, NHTSA, USA (ESV conference in Paris)

1985 Bohlin's safety belt patent listed as one of the eight patents of greatest significance to humanity in the past century (Benz, Edison, Diesel), Germany patent registry, West Germany

1985 Award for special achievements, NHTSA, USA, (ESV conference in Oxford)

1989 Nils Bohlin is inducted into the International Safety and Health Hall of Fame, USA

1992 Safety award, Second World Traffic Safety Conference, New York, USA

1995 Royal Swedish Academy of Engineering Sciences (IVA) gold medal

1999 Nils Bohlin is inducted into the Automotive Hall of Fame

2002 Nils Bohlin is inducted into the National Inventors Hall of Fame