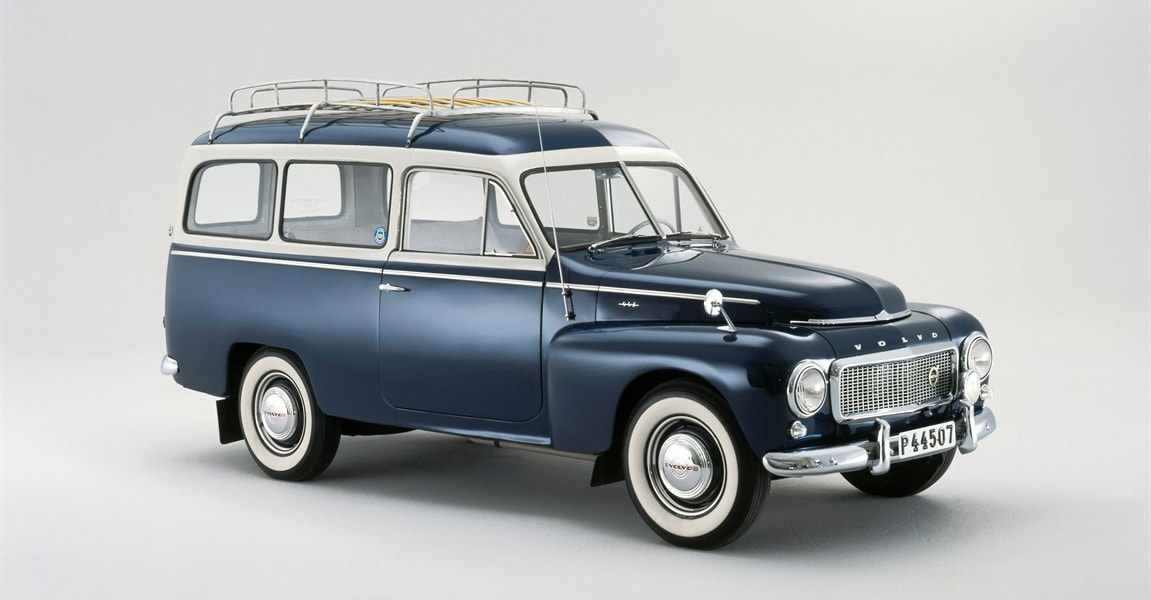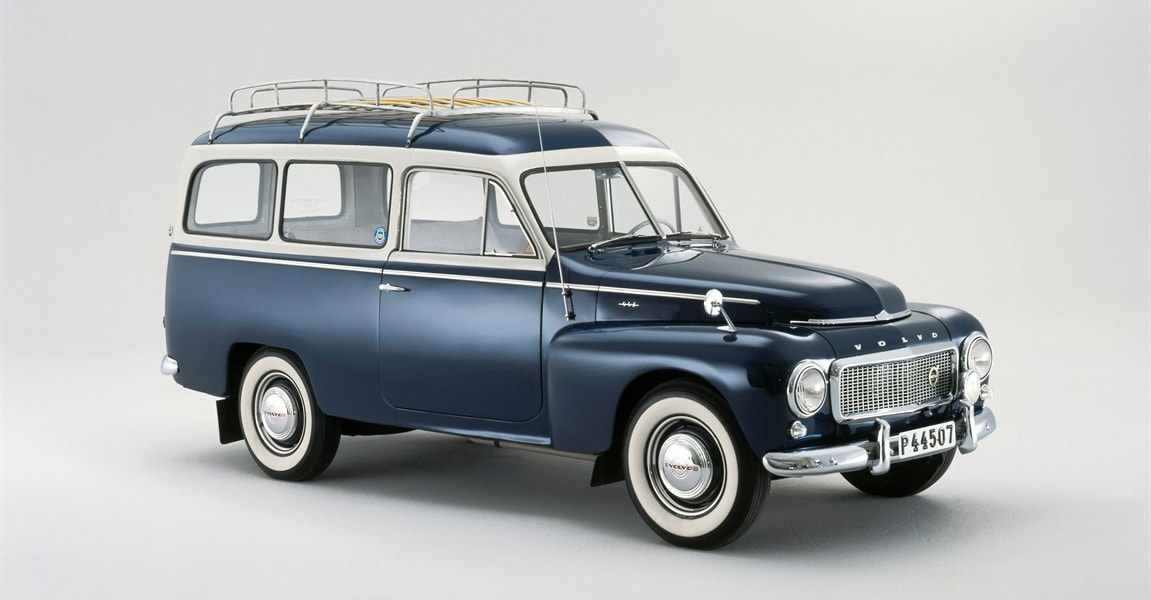 In celebration of Volvo's heritage of building station wagons, we're taking a look back at the one that started it all - the Volvo PV445, which turns 70 this year.
The PV445 was the chassis version of the PV444, which due to its unitary construction could not be supplied in bare-chassis form. Its mechanical design and frontal appearance, however, were identical to the PV444 except for an additional bar in the grille.
From 1949 to 1953, the PV445 formed the base for small trucks, vans, station wagons, and a few beautiful drophead-coupé convertible cars. None of these were built by Volvo, but by independent coachwork firms.
In 1953, the famous Duett (variant DH) was introduced, based on the PV445. This became legendary, and is the ancestor of today's exclusive, comfortable, safe and powerful Volvo station wagons.
How it all began
Shortly after Volvo started making vehicles in 1927, they began to deliver bare chassis for accommodating different bodies according to customers' needs. The big Volvos of the 1930s were derived from Volvos fitted with front wings, bonnet, sills and rudimentary A-pillars in order to be transformed into vans or pickup trucks by the many coachbuilders in Sweden at the time. Bare chassis versions of the larger pre-war Volvos were still offered in the sales catalogue throughout the 1950s, but the need for a smaller and lighter chassis version became evident.
The PV444 had a unitary construction body design and therefore could not be used for this kind of vehicle. A commercial equivalent built on a strong but light separate frame had to be designed. The production of this chassis started in the summer of 1949. It was the equivalent of the PV444 in size and price. When it came to appearance, the front wings and bonnet came straight off the 444 but the 445 was distinguished from the saloon by having a grille with five horizontal chrome bars instead of four. Payload was slightly above 1,000 pounds depending on body version. A pickup was lighter and could carry more weight than a heavier van. Total weight was 3640 lbs. and the chassis alone counted for 1600 lbs., But those who used the 445 daily soon learned that the car could carry much more in practice than in theory.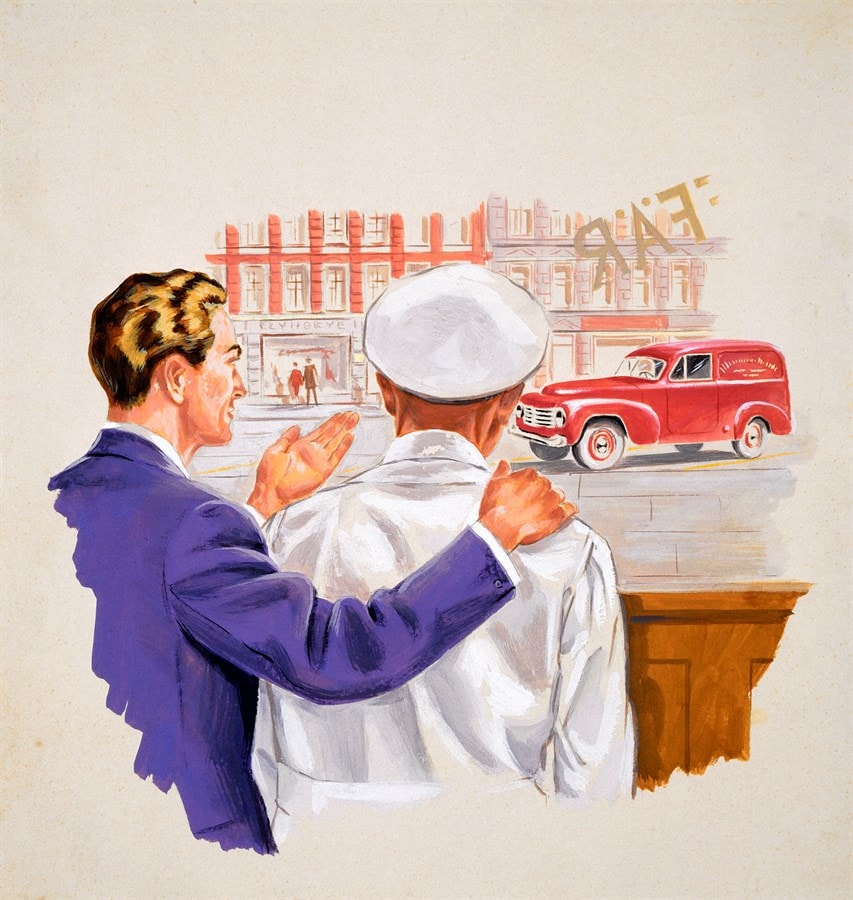 The little 1.4-liter OHV four-cylinder engine, with its 40 hp, was enough to propel the car efficiently in urban traffic. Its low gearing provided very good acceleration but made the cars noisy and thirsty at higher speeds on longer runs. The mechanical equipment was all PV444 except for the rear axle which was sprung by two very rigid semi-elliptic leaf springs rather than the more comfort-oriented coil-spring suspension of the 444.
Big business
Sweden at this time had about 70 coach building companies of which some 25 did different bodywork for the 445. For vans, hearses and ambulances, the bodies were invariably made from wooden frames with sheet steel paneling, so were the cabs of the pickups. Very few all-steel bodies and cabs were fitted to the 445, mainly due to time and cost reasons. The inside of these vehicles were practical rather than comfortable. Usually some type of board was used for the door sides and the upholstery was most often different makes and types of durable artificial leather. The coziness factor was low. It was up to the driver to create a snug and comfortable working place. And that was exactly what the 445 was for its users - a place of work.
On rare occasions the 445-chassis was even fitted with convertible bodies, for instance by Nordbergs of Stockholm, Ringborgs in Norrköping, and the Gävle-based company Valbo. The two latter companies even tooled up for a small series production, they built some ten cars each. Of these 20 cars, some 10 are still in existence and a handful are in perfect running condition in the loving hands of enthusiasts. Priced at more than double the cost of a PV444 when new, they were and remain rarities.
"A van of our own"
In a few years time, Volvo filled the market with 445s. The tough and long-lasting little workhorses were not traded in for new ones or scrapped at the rate Volvo had expected. They were simply too good. By the beginning of 1952, Volvo found itself with 1,500 unsold 445 delivery chassis parked outside the factory; cars that should have been on the road a long time ago. In parallel, more and more car manufacturers started to offer their own vans and estates, ready made from the beginning, and the coach building companies were facing difficult times. But the 445s had to be sold just the same, and why the need for an outside body supplier in order to make them attractive?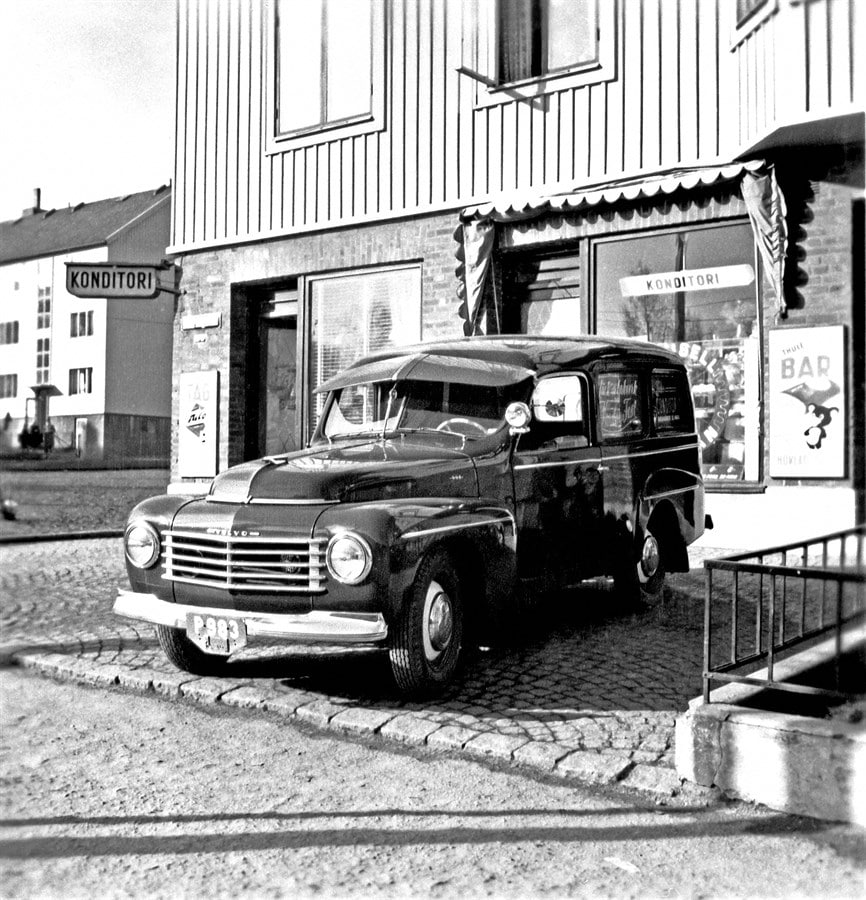 "Build our own Volvo van" was managing director's Gabrielsson's directive and thus was born the Volvo Duett - Volvo's first van/wagon model. Young engineer Erik Skoog and his small team went to work straight away, and designed a body for the 445 chassis which was suitable for both goods and people transport alike, ordered the necessary tools and - only 15 months later - on the 4th of July 1953, delivered the first Duett to its eager "customer", Volvo president Assar Gabrielsson.
The Duett was to become a true Volvo favorite on its own merits, the production lasted until 1969. This car could also be delivered as bare chassis for alternative body work but such versions became more and more rare. The practical and roomy standard versions of the Duett - with or without rear side windows - could handle most small and midsize transport needs. The perfect choice for the small business.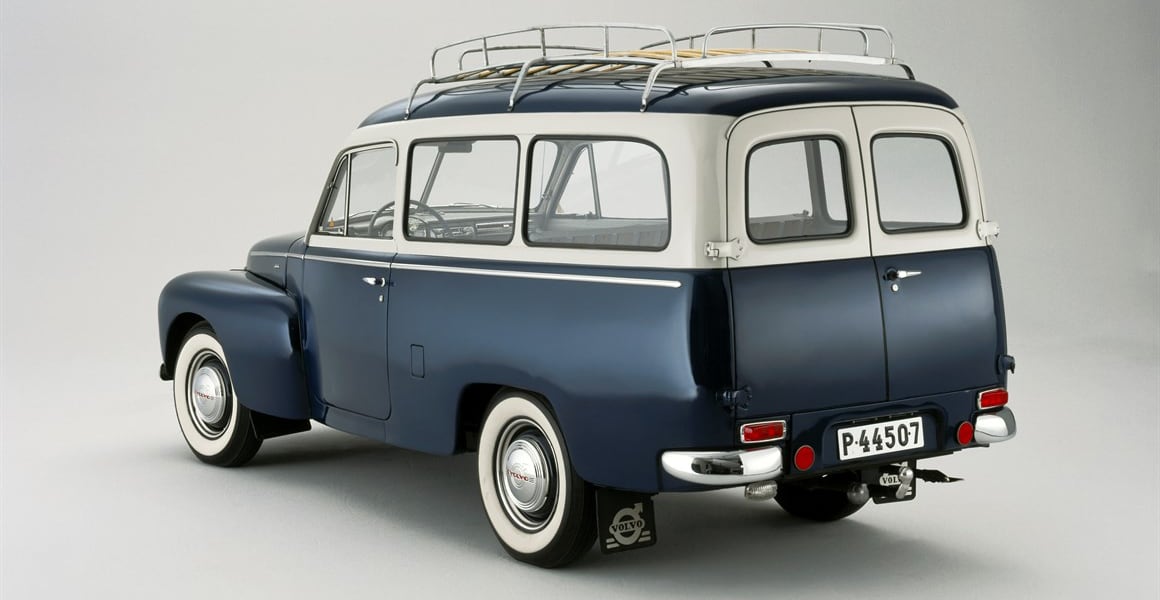 For the enthusiast
For those who like chassis numbers and their origins, the 445 and Duett number systems are a real challenge. They can be very confusing. First, only bare chassis were numbered, then other types were taken in as they were added to the basic version and it is difficult to separate the types and the numbers from each other. In total, 4,194 bare chassis were produced. 4,035 of them 445 and a mere 159 were 210s. In short, the system is built up according to this:
Delivery chassis, numbered from September 1949 - May 1962 (end of production)
Wagon (estate) version
Panel (Van) version
Passenger wagon (estate) version (!)
210 Duett (end of production February 19th, 1969)
Total production all types incl separate chassis: 101,492
For more information, look at www.volvocars.com/heritage or contact Claes Rydholm, 0046 31 594526.
Technical Specifications
Model: PV 445 / PV 445 Duett
Variants: PV 445 A, chassis PV 445 B, chassis PV 445 Van: DS, GS, LS, P-44505 - 1957, P-4405 M PV 445 Estate: DH, GL, LL, P-44506 - 1957, P-44506 M PV 445 Passenger estate: PH, GP, LP, P-44507 - 1957, P-44507 M
Produced: 1949 - 1960
Volume: 29409
Body: Estate and delivery van
Engine: 4-cylinder, in-line, overhead valves; 1,414 cc; 75x80 mm; 40 85 bhp or 1,583 cc; 79.37x80 mm; 60 bhp at 4,500 rpm.
Transmission: 3-speed manual with floor-mounted gear lever.
Brakes: Hydraulic drums on all wheels.
Dimensions: Wheelbase 2,600 mm.