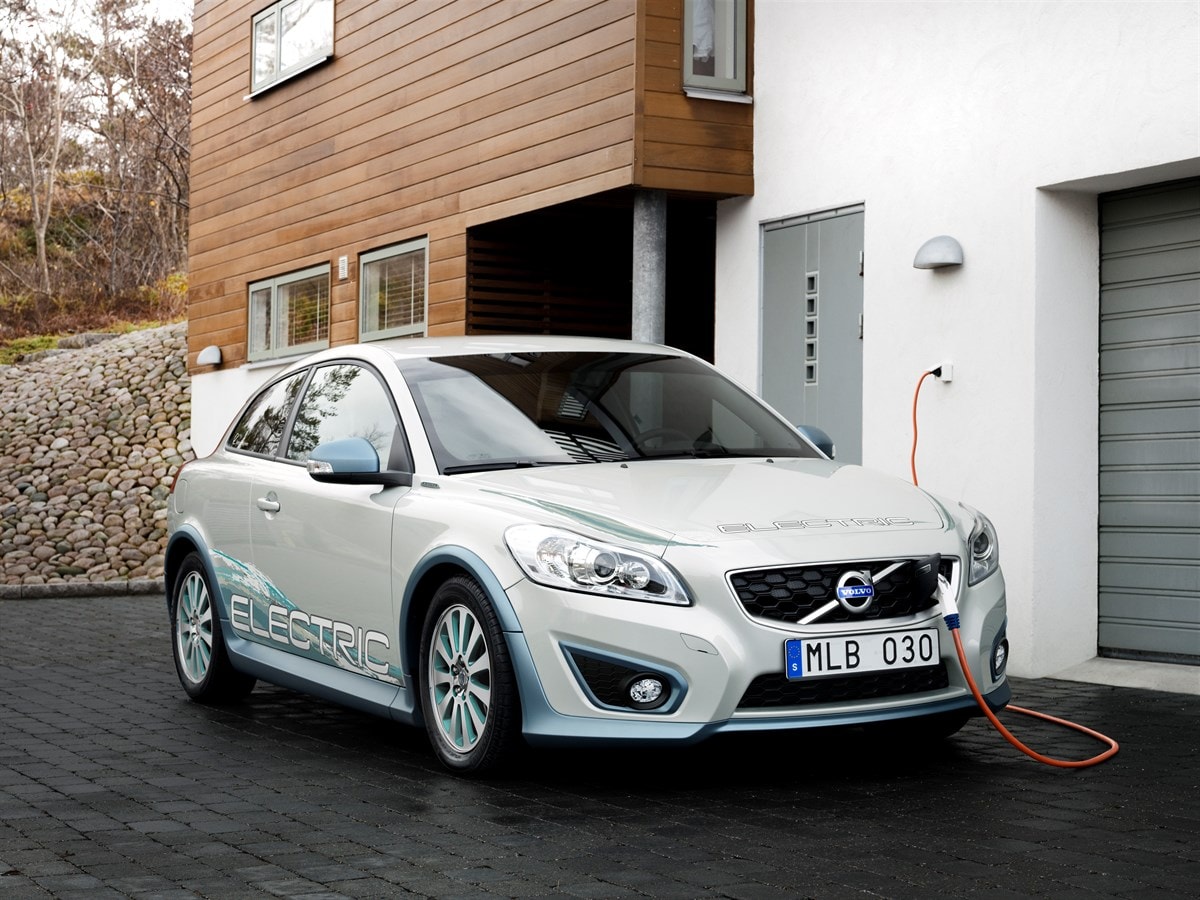 As we continue to explore Volvo's history of electric vehicles, beginning with the Elbil of the 1970's, we take a look at something a little more recent, the Volvo C30 Electric. This is a vehicle that was produced, although in very small numbers, for delivery to Europe, the United States, and China.
Some of the comments made in Volvo's original press release, dated April 2011, are interesting considering what we know now about Volvo's first mass-produced electric vehicle, the XC40 Recharge, which began delivery late last year.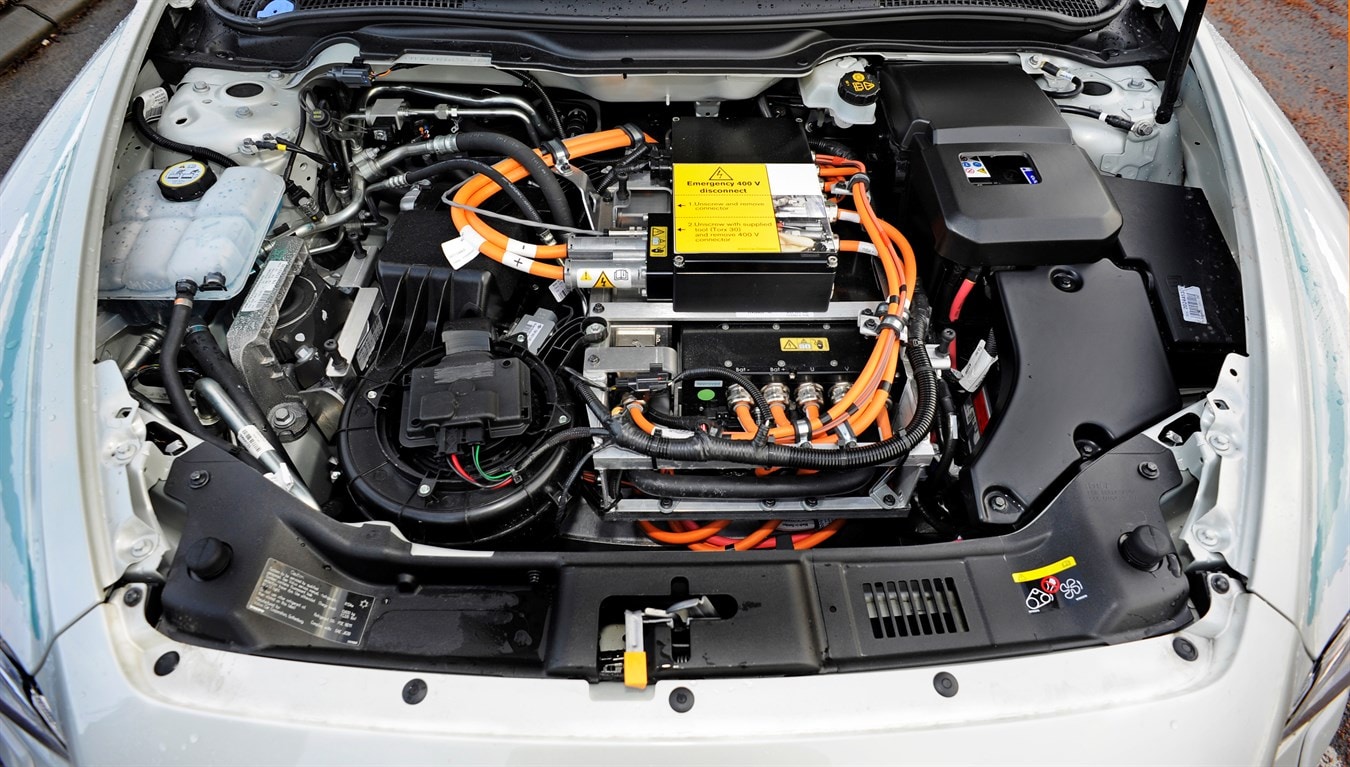 Volvo Cars described the C30 Electric as part of their "ambitious electrification strategy," saying it is as well-equipped, comfortable, sporty and safe as the standard car - while at the same time offering the driver a range of up to 150 kilometers (93 miles) per charge with almost zero carbon dioxide emissions."
Deliveries of the initial batch of 250 cars to selected customers in Europe began during the second half of 2011.
Lennart Stegland, director of Volvo Cars' Special Vehicles, said: "We have received very positive signals from the market so far. Fleet customers such as authorities and companies will lease most of the initial 250 cars. The cars will go to Sweden, Norway, Belgium, the Netherlands, France, Germany, USA and China. If demand continues to remain high, we will increase our production."
"It is estimated that by 2020 between five and ten percent of cars in Sweden will be powered by electricity," continued Stegland. "Around 2020-2025 we expect that electric cars will have conquered three to ten percent of the EU market share. Different markets have different potentials."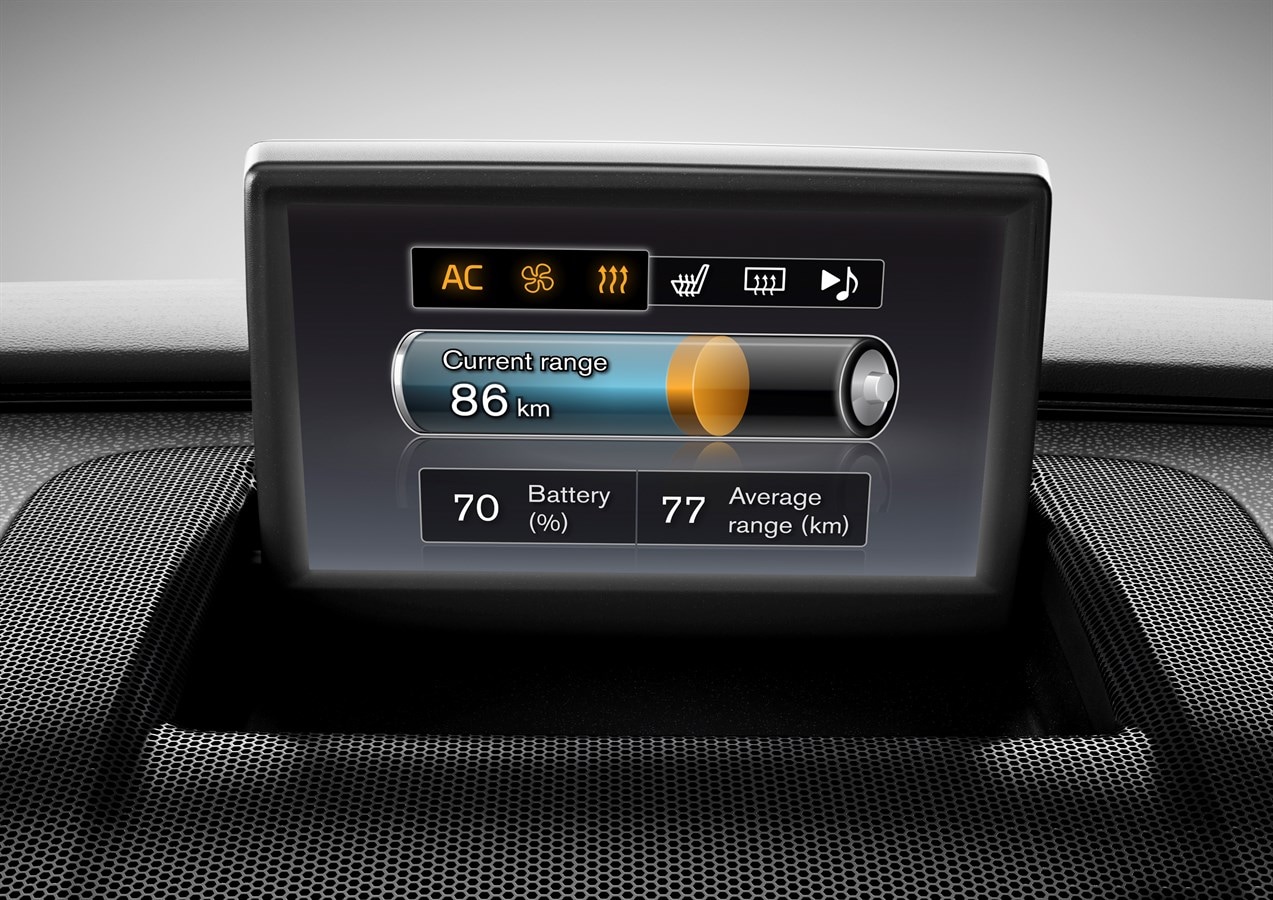 The press release goes on to describe electric vehicles as using "relatively little electricity," and mentions that the increasing demand will be more than covered by the ambitious expansion plans for renewable energy sources all over Europe. "One single windpower turbine, for instance, produces sufficient renewable energy to power 3,000 electric cars."
Up to 150 kilometers (93 miles) on one charge
In order to give the car a range of up to 150 km, the Volvo C30 Electric has a 24 kWh battery pack, of which 22.7 kWh is used to power the car. The batteries (2x140 kg) are fitted both where the fuel tank is normally located and centrally in the vehicle. This means that the luggage space remains intact.
Under the hood, the conventional combustion engine has been replaced by a far more compact 111 hp electric motor that offers 220 Nm of torque. In addition, the car has a 400 Volt high-voltage system.
The lithium-ion batteries are recharged via a "regular 230 Volts power socket." The cable is plugged into the car's grille via a specially designed charge connector.
The time needed for recharging varies with the current available. A full 10-Amp charge took approximately 10 hours. This time dropped to around 6-8 hours with 16A.
During the charging process, the incoming alternating current (AC) is converted into direct current (DC) that is stored in the batteries. "When the car is driven, another conversion step takes place. An inverter transforms the stored direct current into the alternating current that powers the electric motor."
The Volvo C30 Electric was also described as having "DC/DC to support other systems, including the 12 Volt system that supplies various traditional components with power."
0 to 70 km/h in 6.0 seconds
The electric motor's instant torque delivery provided the Volvo C30 Electric with acceleration from 0 to 43 mph in just 6.0 seconds, with a top speed of 80 mph.
The certified range according to the NEDC (New European Driving Cycle) was 163 km (101 miles). However, Volvo Cars specified up to 150 kilometers (93 miles) as the car's "practical range."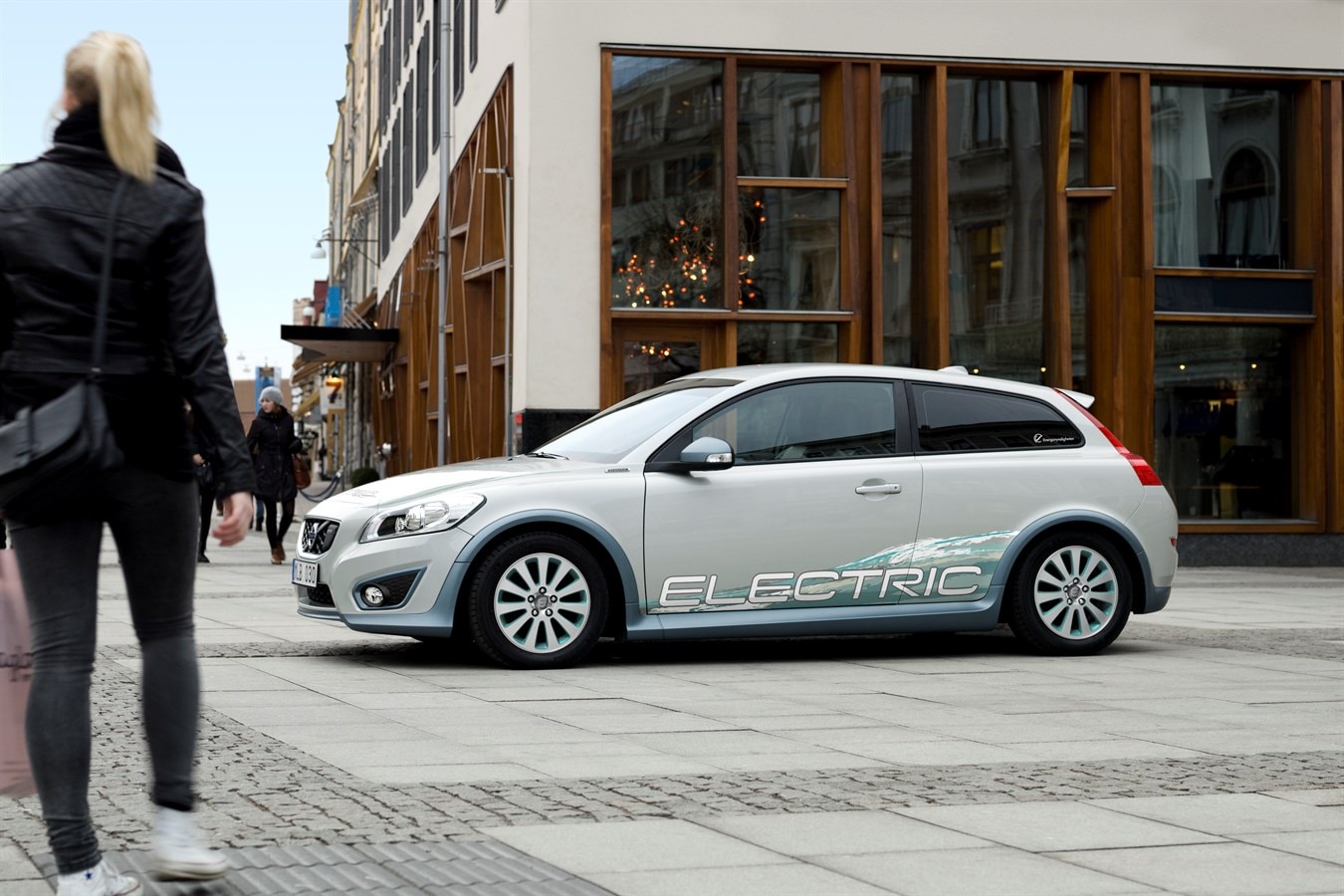 "150 kilometers is a considerably longer distance than 90 percent of all commuters in the world cover per day. The average figure is 45 km/day. This means that the C30 Electric could be used for daily commuting," explained Lennart Stegland.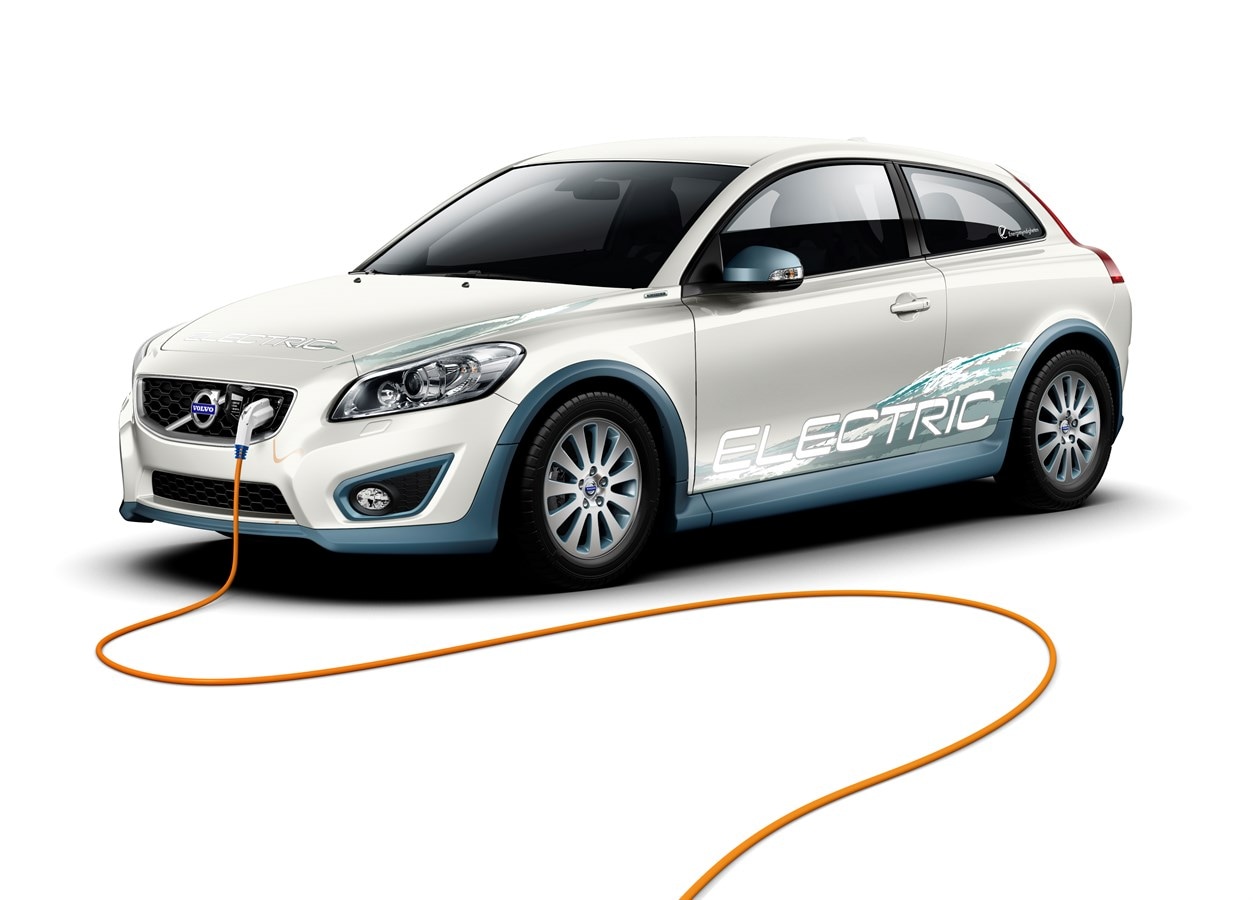 How does this compare with the XC40 Recharge?
Electric vehicle technology has come a long way in just the last ten years. Comparatively, the Volvo XC40 Recharge is equipped with 2 permanent-magnet synchronous AC motors, capable of producing 201 hp, 243 lb-ft (each), with a combined output of 402 hp, 487 lb-ft. It's powered by a 75.0-kWh lithium-ion battery pack. The XC40 can accelerate to 60 mph in 4.3 seconds, 100 mph in 10.7 seconds, and has a top speed of 112 mph. XC40 Recharge's range of 200 miles is also double that of the C30 electric.

The purchase of an XC40 Recharge, available now at Portland Volvo Cars, in Scarborough, may qualify for a federal tax credit of up to $7,500. State and local incentives could add further benefits. Click here to learn more about Volvo's 2025 Electrification Strategy.