Above left: Ribbon-cutting ceremony. Above right: A pencil drawing of the original Portland Volvo.
---
The Early Years
Portland Volvo Cars can trace its history back tot he mid 1970's when it was founded by racing driver and Volvo enthusiast, Chuck Cunningham, and his partner, Bernard "Bud" Ward.


Above left: View of Portland Volvo from the South - check out the old cars! Above right: View from the North.


Above left: View of the showroom during the ribbon-cutting ceremony. Above right: New Volvo 240s on the lot.
The partnership would last through the 1980's when Bud took over sole ownership of the dealership, and later in the decade, as he was nearing retirement, there were rumors that he was looking to sell.
---
Jon Dietz Era (1989-1998)
Jon Dietz, a successful Volvo Salesperson and later GM for a Volvo store outside of Boston, entered the scene in 1989. He always had a dream of owning his own dealership, and he was actively looking for opportunities. "I came very close to buying a Volvo dealership in Southern California," he said. "I had all the finances in place. Everything was lined up, but at the last minute, I decided that I belonged in New England."
Some of Jon's contacts at Volvo suggested that he look at an under-performing dealership in Scarborough, Maine. What they didn't know was that Jon had attempted several times before to contact the owner, but never got a response. This time, however, Mr. Ward seemed willing to talk, and invited him to visit on a Sunday morning in 1989.
Shortly thereafter, Jon purchased Portland Volvo, and within two years, doubled the business. For the next seven years, the dealership, under Jon's guidance, earned Volvo's Dealer of Excellence award.


Above left: The showroom before the 1997-1998 renovation. Above right: The showroom in 2018.

Above left: The Parts and Service counters prior to the renovation. Above right: The same area in 2018.

---
Bill Waldron Era (1998- Present)
After many successful years, in 1998, Jon was approached by current owner, Bill Waldron, about purchasing Portland Volvo. He considered the offer for some time and decided to sell the dealership and retire from the business.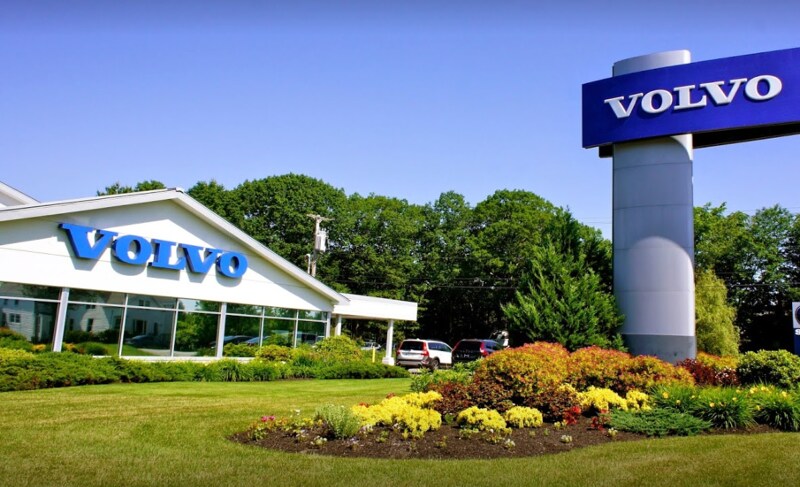 It was a short-lived retirement. "About a year and a half later, I was getting a little bored," he reminisced. "So, I went into a partnership with Bill and we bought Portland Saab, in Falmouth. After a couple years, I sold my half and retired again."

But that didn't last either. "Not long afterwards, I offered to help out for one more year." Smiling, he added: "So, here we are fifteen years later!" Jon served as Portland Volvo's General Manager until his retirement in December of 2016.

Throughout his career, Jon has always found success with the Volvo brand. "Volvo is an honest product," he explained. "You get what you pay for. It may not be glamorous, but it's safe, solid, durable, and does everything pretty well." Volvo has always had a strong presence in New England as well. "The Northeast alone was at onetime the 3rd largest market for Volvo in the world, and it continues to be the largest in the United States."

Jon left behind a Portland Volvo that is shaped by his vision to provide a "safe, solid, and durable" product, while delivering a customer experience that is nothing short of exceptional.

For 2017, Bill Waldron served as interim General Manager, before turning the role over to Curt Hodges, who previously served as General Sales Manager for Kia of Saco, before coming to Portland Volvo in 2014. Curt led us through 2018 before moving to our sister store, Southern Maine Motors, in mid December of that year.

Matt DiBiase, who was service manager for Portland Volvo until becoming General Manager for Southern Maine Motors in 2015, will lead Portland Volvo into the next era with an enthusiasm for the direction of the Volvo brand and a passion to provide exceptional service at every touch point of the customer experience.